Welcome
Get professional vocal health help with our Master voice repair specialist Diana Yampolsky. We can help with any vocal disorder, voice problems, vocal health issues, non-surgical voice repair and just lessons, in Toronto, Ontario and worldwide.
Check out our Press Release.
We specialize in Non-Surgical Voice Repair and Post-Surgical Traumas. Whatever your voice problem is we can solve it through the use of our revolutionary vocal technique, specially designed speech exercises and natural herbal remedies which can negate the need for drastic approaches such as vocal cord surgery. We are the WORLD'S only non-surgical / non-conventional voice repair specialists! If you are having a voice disorder, are considering surgery, suffering from Vocal cord dysfunction, Vocal Strain, laryngitis, throat/vocal cord problems or are experiencing post-surgery trauma and want to learn how to insure the health, strength and safety of your voice FOR LIFE, please contact us.
Our unique and revolutionary Voice Repair program will not only repair your voice, voice disorder and your vocal box using non-conventional voice therapy, it will also teach you how to use your voice correctly according to the standards of professional speaking/singing, so that your voice issues will never be a problem again and we guarantee it!
Still skeptical, then see the testimonials of our past and present clients.
*Often covered by work health benefits
Contact us and receive professional vocal health help with our World Renowned Voice Repair Specialist Diana Yampolsky. We can help with any vocal disorder, voice problems, vocal health issues, voice repair and lessons, in Toronto, Ontario.
For additional information on non-surgical voice repair & voice/vocal coaching, please also visit www.vocalscience.com.
LATEST NEWS
---------------------------------------------------------

We are very happy that, after the very hard work on her voice, Evie's dream is coming true!
Congratulations to our former Voice Repair client &, thereafter, highly dedicated singing student, Evie Bonella, for entering a Music program at the prestigious Royal Holloway, University of London, which will lead her to a 'bachelor's degree of music' in the foreseeable future.
We are very proud of you Evie!
By the end of March, 2016, Ms. Yampolsky is planning again to come to London UK to teach, consult and repair voices. If any of you are interested to embark on any of her services there (or here for that matter), please contact us as soon as possible via email:info@vocalscience.com, Or schedule a FREE phone consultation: #416-857-8741
Dates: To Be Announced
If interested in our 'Travel To You' services,
please inquire Today! (416-857-8741 / info@vocalscience.com)
We Hope to see you there around the world, or here in Canada!
'Vocal Science - Love Your Voice!'
Latest! Our Special Vocal Exploratory Group Session now has only One Spot Remaining!
get your spot now to learn and experience what Vocal Science is all about!

For more info, click HERE

We would like to congratuate our clients of 2014/2015 for the great success in their voice recovery!




The achievements of our clients in the year 2014/2015:

Holly Rubich -


Adam Riley -


John Polanco -


Sergei -


Jordan Roy -


Noreitta -


Ethelrida -


Bob Harris -


Rodney Ronquillo & Chyrell Samson -


Cathey Michie

Wenke Gold


(That`s Just To Name A Few)

Check our Post - Course Letters section to witness their latest achievements and the recovery of their voices.

Vocal Science - Love Your Voice!

Dont forget to Like and Subscribe to our social media site links below for more updates to our current events!

We would like to thank Judy Schilling From Dallas, Texas & Elizabeth Barton from Salt Lake City, Utah for choosing us for the voice restoration (vocal cord repair) and Master Vocal Coaching to be conducted out of Dallas, Texas from January the 5th through January the 14th.

- To find out, check out this link (or see the 'Why Choose Us' section in our Front Page :Middle Left:) -

Check out yet another great Post-Course Testimonial from Elementary School Teacher/Aspiring Broadway Singer from Florida, US - Holly Rubich.


"Vocal Science: Life Alteration & Transformation through Voice Restoration"

Bob Harris, (1 year after completing the 30 hours of voice repair course/treatment & Master vocal coaching), gives us a summery of his journey with his previous voice troubles.

See his previous letters after he completed his vocal journey with us!

"My coaches did have some helpful areas, but I knew there was a lot more to be had - the universe heard me and lead me to you."

- Bob

Give yourself and your loved ones the gift of a healthy voice!
Ask us how - Call our experts today!

Vocal Science - Love Your Voice – Love Yourself! (Newsletter).

Check out our new blog titled: Vocal Science: Love Your Voice – Love Yourself!!!

Also, Interested to know, first hand, what's up with the Royans Professional Vocal School and The Roynas Institute for Non-Surgical Voice Repair? Please sign up for our newsletter (information located on the lower right side of vocalscience.com) And check out our press release and learn from the experiences of our past clients.

Read the great testimonial from Pop/R&B Singer, Noreitta Ramocan, as she describes her experience attending our Vocal Science Exploratory Group Session.
Before/After Instruction Video.
"I hope you know that our time together and my experience with you is very dear to me. I have complete faith in your method and technique and really do hope to come back and finish what we started when the time is right." -Adam
The cost for the above is only $185.00 (Tax included)
Hurry! It will be gone soon!
&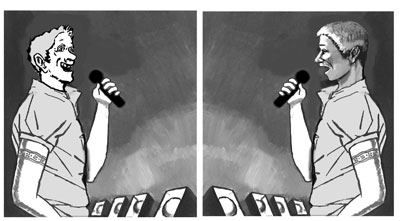 Also, If interested in our special Case-Study programs, please enquire about it via our email:
info@vocalscience.com
, or call Diana Yampolsky directly at:
416-857-8741
We are happy to announce and welcome 4 up-coming singing and voice repair clients from out-of-country!
- New voice repair/singing client from New York, US – John P
- Former speech/singing voice repair client, now singing client from
- Florida US – Holly R
- New voice repair/ speech - singing client from Australia – Adam R
- New voice repair/singing client from Utah, US – Elizabeth C
"Having studied with many 'masters' over the years, I was under the opinion that it did not really matter so much who one's teacher was, because, in the end, the student had to do the work and figure out how to perform to a higher standard in his/her own mind. Diana's method has defied this assumption. An excellent, enormously experienced teacher can make a life-changing difference."
- Timothy Bartsch – Professional Musician